Source: Lawyers Conference, Judicial Division, ABA (2017)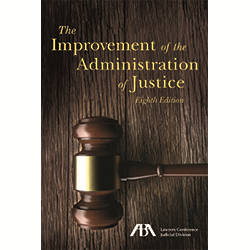 Recently, the ABA's Lawyers' Conference announced the availability of the eighth edition of The Improvement of the Administration of Justice, the Conference's periodic treatise on various elements of the judicial system and how things have been improved over the last 15 years since the previous edition hit the streets in 2002. Articles are written by academics, practitioners, judges and court executives.
The book is divided into six sections: The Judicial System, Judicial Officers, Court Operations, Case Presentation, Specialized Courts, and Serving the Community. While these topics can be being quite broad, with each section possibly standing as a volume of its own, the new edition brings the focus back to the administration of justice and how it can be improved.
The first section of the book gives an overview of the system focusing on the importance of judicial independence; explaining how the courts can and should improve their governance; and the roles of courts, judges, and bar leaders on improving the administration of justice. It closes with a look at the funding sources for courts and how they can be sustained. The second section looks at judges, focusing on their ethical responsibility, and how they are evaluated, educated, and selected. It also takes a look at magistrates and other types of appointed officers and their unique roles. The third section is truly the meat of the book and attempts to cover every aspect of the operational side of courts. The fourth section focuses on what goes on in the courtroom and addresses issues such as the growth of self-represented litigants, e-discovery, the judge's role in the admission of scientific evidence, jury trials, sentencing, and the importance of civility. Section five gives an overview of a number of different types of court. Every court does something unique and may provide insight on new ways of handling cases that can be borrowed by other courts. The final section is on serving the community – how we reach out and communicate and how we deal with the people we are serving through community correction and evaluations and treatment.
The court system is going through a time of immense change. It has only recently emerged from a period of devastating budget cuts and underfunding brought on by the Great Recession. It is almost axiomatic that when court funding is being cut, there is so much turmoil within society that the workloads of the courts increase. This is what most courts experienced. It creates more pressure on courts and court leaders to operate as efficiently and effectively as possible, even when staffs are cut and courthouse doors may be shuttered. Many of those lessons are incorporated in this latest publication. The book is available through the American Bar Association.