Much to the surprise of Gordon Griller, NAPCO's executive director, he was presented with the association's inaugural trial court leadership award for excellence at the recent 2023 Annual Leadership Academy and Conference in Boston.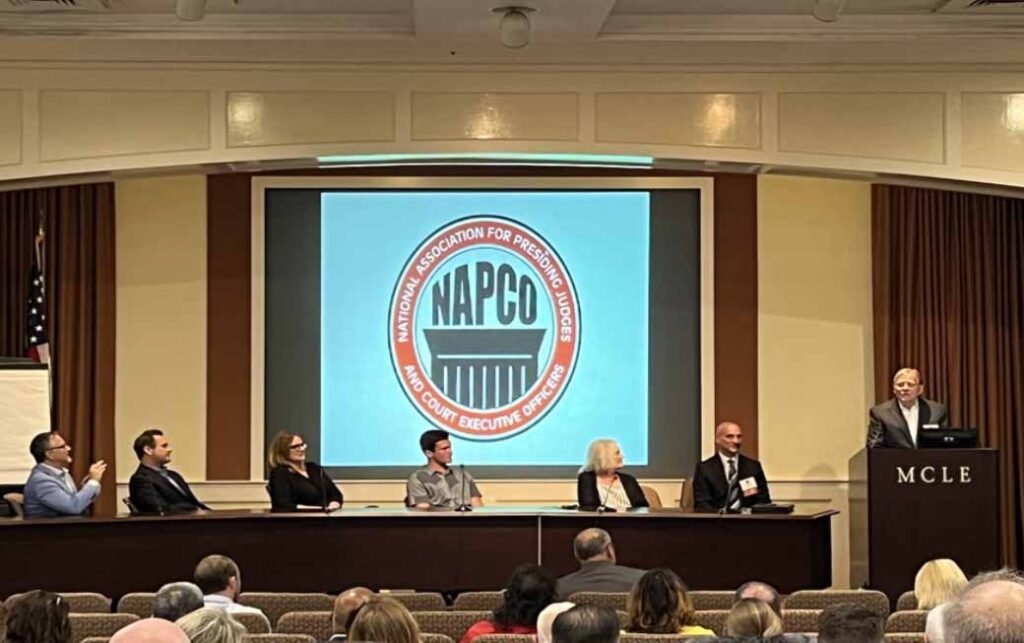 Griller began his career with trial courts in 1972, logging 30+ years as a court executive in Minneapolis, St. Paul, and Phoenix. He then worked for three years as a top official for a justice system technology company, and concluded his career with a 16-year stint at the National Center for State Courts as a principal court consultant counseling trial court leaders in more than 20 states and territories.
The special award bearing his name will be presented annually to a trial court leader who has demonstrated an unwavering commitment to leading state and local courts by inspiring trust, promoting collaboration and transparency, fostering a culture of innovation, performing with integrity, accountability and decisiveness, and displaying resilience and compassion when faced with tough times. In other words, exhibiting the characteristics of an effective leader and strategic partner jointly with trial court judicial leaders.
Another unexpected surprise awaited Griller at the award ceremony: members of his family were secretly spirited to Boston from South Carolina and Arizona to attend the presentation, including his wife, Helen, their son (Chad), daughter (Heather), son-in-law (Kerry) and one of their four grandchildren (Gavin).
"It was surreal." Griller commented afterward, "When I saw them walk into the auditorium, I was deeply moved emotionally. And quite frankly speechless, too, which is a bit unusual for me as many of my friends and colleagues would agree."
The presentation took place just prior to this year's Academy Day seminar on "Capturing the Power of Negotiation to Promote Collaboration and Enhance Trust" given by Harvard professor Daniel Shapiro. Griller said he felt okay in "excusing himself" from the daylong event to spend time with his family in Boston.
"I did hear the next day from many conferees that Dr. Shapiro did a fantastic job, even though I stole some of his time by introducing my family to the audience."
Early reports from NAPCO leaders indicate they are interested in asking Professor Shapiro to return in 2024 for an Academy Day presentation focused on "Leadership and Power". That future conference is planned to be held in Denver, NAPCO Board Chair Judge John J. Russo said. 
Griller plans to remain involved with NAPCO as a Board Member after he leaves his duties as executive director in February next year when he turns 80 years old. He's also looking forward to attending Academy Day next year to hear Professor Shapiro.
---
The Gordon M. "Gordy" Griller Award for Excellence in Court Leadership is given annually by the Association to a person or persons who demonstrate leadership, innovation, and access to justice for all.
Throughout Mr. Griller's stellar career in court administration, spanning more than five decades and including court executive positions in Minnesota and Arizona and as a Principal Consultant with the National Center for State Courts, he was at the forefront on many innovative and long-lasting court improvement initiatives.
At the local level, he spearheaded many new programs including designing and implementing one of the first self-help centers for self-represented litigants, jury system improvements that increased community participation, and re-engineering case management practices to increase productivity and ensure all persons had access to prompt and timely justice.
On the national scene, Mr. Griller was an integral part of the merger of the National Association for Court Administration (NACA) and the National Association For Trial Court Administrators (NACTA), leading to the creation of the National Association of Court Management (NACM) and the transition of the National Conference of Metropolitan Courts (NCMC) into what is now the National Association of Presiding Judges and Court Executive Officers (NAPCO).
Additionally, Mr. Griller has devoted countless hours to conducting educational sessions and providing on-site assistance throughout the United States on a wide array of issues, sharing his extensive knowledge and expertise of court operations. Throughout his tenure, he has remained a staunch supporter of effective leadership within the court, modeling the "productive pair" approach with Presiding Judges.
Honorees of this award embody the leadership, innovation and access to justice traits that were the hallmark of Mr. Griller's lifelong work in court administration.